New Products
New Products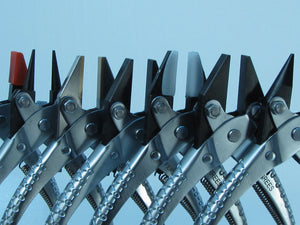 Ferrees New Items Newsletter
G68 SHELLAC AVAILABLE IN 5 COLORS AND AN ASSORTMENT (1 STICK OF EACH) $35.00

SOLD BY EACH $7.50 or DOZEN $76.50 (sticks are 7" long and 1/2" wide)
CLEAR- A truly crystal-clear traditional shellac.  Used on the woodwind of your choice for times when you want a truly clear adhesive that behaves as shellac does. Great for making your own shellac pellets on a bench anvil for small woodwinds. 
WHITE- A traditional white shellac. Used commonly for bassoon padding and other woodwinds using white leather or traditional bladder skin pads.  
TRANSPARENT AMBER- A true light amber shellac.  For use on all woodwinds. A little less viscous than its darker counterpart.  Great for making your own shellac pellets on a bench anvil for small woodwinds. 
SEMI-TRANSPARENT DARK BROWN MAHOGANY- A traditional dark shellac.  This shellac has been the traditional staple for woodwind pads, especially saxophone.  Like making your own from flake shellac.
BLACK- A traditional shellac in true black.  For use on woodwinds when black pads are used, and you would prefer a shellac.  
DELRIN DENT HAMMER
Great hammers for dent work when you want a non-marring surface that will not harden the material you are working on.  Can be used to tap on steel mandrels or dent balls without leaving hammer rash/ walnut shell dimples. Great for general purpose tapping of all types.  Sold in two sizes.  One end is round, and the other end has a slight radius.   A must have in your toolbox.  
F6A    1" DIAMETER X 3 1/4" LONG $30.00
F6B   5/8" DIAMETER X 2 1/4" LONG $25.00
F6ABS - Both Hammers at a discount $48.00
Z60M MINI Z EXTENSION FOR BARITONE SAXOPHONE
EXTENTION MADE FOR THE MINI Z THAT ENABLES YOU TO WORK ON BARITONE SAXOPHONES.  (MINI Z NOT INCLUDED) - $519.09
L41A ADJUSTABLE VISE STAND
L41A Adjustable Vise Stand now available.  This vise stand is adjustable from 27" (68.5cm) to 47" (119.3cm) giving you a large range to set your vise to for best use.  Great for shops that share a vise between techs or those instances where you just need to hold something at a better height for getting the work done.  
The L41A Adjustable Vise Stand raises and lowers by releasing the locking lever and spinning the top clockwise or counterclockwise to raise or lower the height of the vise.  Then you lock the lever and your vise is secure.  The floor plate is predrilled for ease of installing and the top plate is left undrilled so you can custom drill the hole configuration that matches your vise.  $485.00
N48C VENTURI ROD FOR BASS TROMBONE
These rods make removing the trombone venturi much easier. Slide the rod down inside the slide tube on the mouthpiece side. The rod is tapered to fit the venturi. Put the end of the rod in a vise and heat the venturi solder joint. Use a twisting motion to pull the venturi tube. $42.51
L14D Vise V-Block
NOW MADE FROM DELRIN MATERIAL
Holds round mandrels in any several repair position in a vise. Mandrels will not slip under pressure. Now has a vertical groove for knuckle tools.  Magnets embedded in material that hold it to vise.  The new Delrin model is the same shape and has the same grooves.  Magnets hold the block to the vise. $44.14
N92 SAXOPHONE SNAKE TOOL
 YOU DO NOT HAVE TO REMOVE THE BOW OR BELL TO USE THIS TOOL
The metal linkage and flexible cable allows you to go through the Sax. Out through the bell and attach the dent ball needed. Then pull the cable until the ball reaches the dent rod. Lock the cable and begin your work. $420.00
L63 PENCIL TORCH
This torch is one of the most advanced on the market that gives you a flame in one second at the touch of a button. An adjustable gas and air control gives you precise control of a pinpoint flame. The flame will burn at any angle. This refillable butane torch features push button lighting and lightweight handling. It has an automatic safety shut off control. Air and gas are both adjustable. $28.84
Z60-15A XL Tapered Trombone Mandrel
The Z60-15A is an extra-large version of the Z60-15.  Same taper with a larger diameter large bore Tenor or Bass Trombones. $128.00